COASTAL POST INSTALLS COMMERCIAL REAL ESTATE SIGNS
The preferred sign installers for real estate professionals in the Lower Mainland, including Surrey, Burnaby, Vancouver, and the Fraser Valley
REALTOR REAL ESTATE SIGN PRINTING
Our wide format print shop is set up with latest wide format printer technology to print your Realtor Real Estate Signs, For Sale Signs and development signs. To print your realtor for sale signs, our team utilizes UV and latex printers that cure instantly. Costal Post's print production team to provide some of the quickest turnaround time for realtor signs, real estate banner signs and coroplast development signs. Our digitally printed signs provides a clear crisp image reproduction and excellent exterior sign durability. Best of all our realtor signs are competitively priced. We also have a large selection of preprinted and customizable realtor real estate for sale sign products for your real estate signs and printing needs.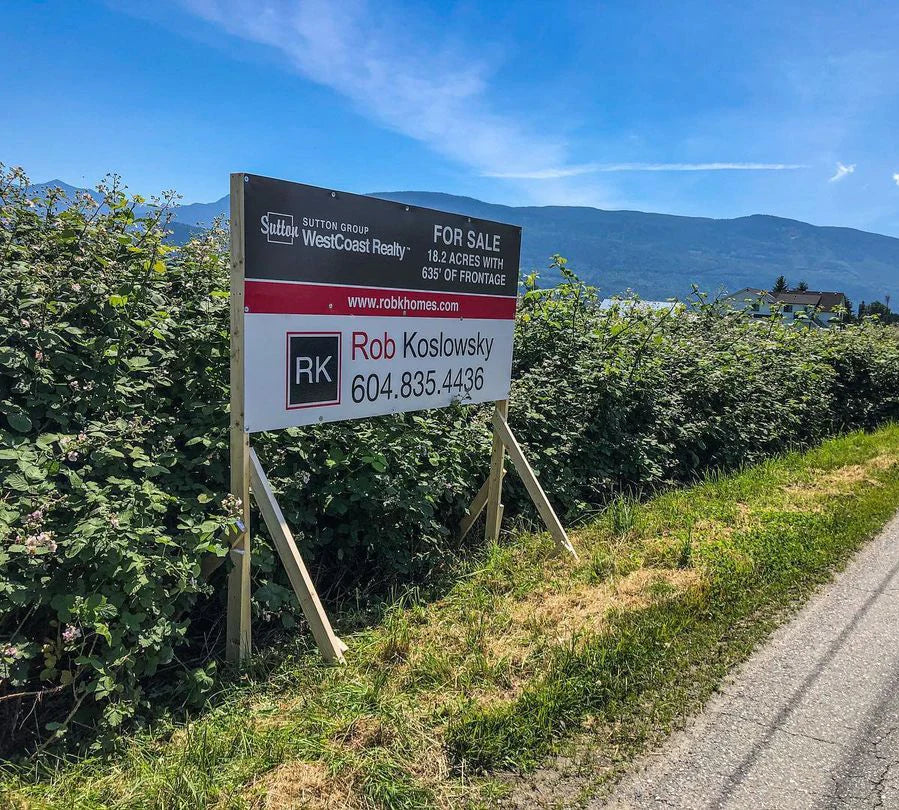 REAL ESTATE & COMMERCIAL SIGN INSTALLATIONS
Coastal Post is your preferred commercial sign installation company. Our sign installers service the Lower Mainland, Greater Vancouver and Fraser Valley. We service realtors and real-estate professionals with their sign and sign post needs.
SIGN SHOP FOR REALTORS AND REAL ESTATE PROFESSIONALS
Our team of sign professionals and sign installers offer a one-stop shop for all your real estate for sale signs, development signs, marketing signs and rezoning signs. Coastal Post is a sign installation company that offers services including realtor for sale sign prints,  for sale sign post installations and commercial sign installations.
SERVICE AREAS: REAL ESTATE SIGN INSTALLATIONS
THE SIGN INSTALLERS
Coastal Post is a full service sign and print company. We specialize in realtor for sale signs.
COMMERCIAL SIGN INSTALLATION
Coastal Post are the sign installers.Commercial Sign Installations create great roadside visibility and help increase awareness of your commercial development. Large 4x8 sign installations are an amazing tool to market a new development, rezoning application and property for sale. 

Similar to Realtor sign posts, your large commercial development 4x8 sign installation is an important marketing tool. With the help of Coastal Post's experienced sign installers. Your large commercial sign installations will not be over looked and installed properly.

Coastal Post installs commercial signs and large 4x8 signs for realtors, developers, property managers, architects and engineers. 
SERVICE AREAS: REAL ESTATE SIGN INSTALLATIONS
SIGN INSTALLATION GIFT CARDS FOR TOP PRODUCERS!
GET UP TO $75 BONUS WHEN YOU ORDER A COASTAL POST GIFT CARD
GET MY BONUS
EASY COMMERCIAL SIGN INSTALLATIONS