Delivering Exceptional Sign Installation Service, Amplified by Bigger Signs!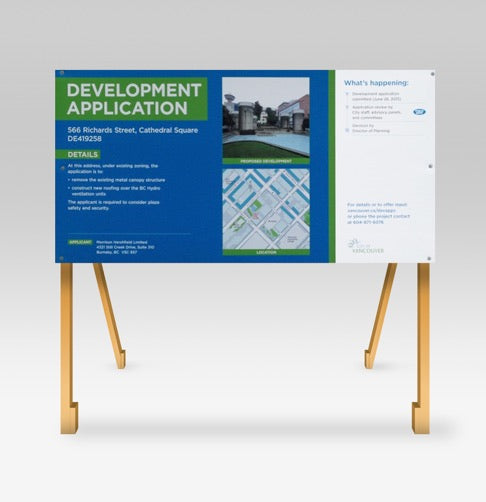 COMMERCIAL SIGN INSTALLATIONS
COMMERCIAL SIGN INSTALLATIONS Make use of large 4'x8' commercial sign installations to spark the interest of investors, buyers or tenants. Commercial real estate sign installations are made up of a 4'x8' printed sign substrate framed with 2x4 lumber. The printed real estate sign is commonly made from coroplast, aluminum composite panel or plywood. Coroplast signs are by far the most popular printed real estate sign used for commercial signs. Light weight, cost effective and durable, coroplast real estate signs work well for commercial signs. 

Commercial sign installations are a must have for for larger properties including commercial, retail, residential, farm and up coming developments. Commercial signs are commonly used for Identifying new land developments, rezoning, marketing services & advertising real estate for sale

Multiple commercial signs can be installed together to create larger signs. When it comes to marketing a large subject property and business opportunity, commercial signs are important. Commercial & Development signs create roadside visibility and help increase neighborhood awareness.

Placement of your commercial development sign is important. Correct placement will insure the property for sale, land improvement or marketing message will not be missed by prospects and leads.

Put your business on the map with a Coastal Post commercial real estate sign installation today!
Print Now
COMMERCIAL SIGN INSTALLATIONS
BC 1 CALL

SAFETY FIRST

Coastal Post completes all the necessary due diligence in accordance with BC 1 Call and WCB to prevent personal injury, property damage, and disruption of essential services

BOOK NOW

ONE STOP SHOP

EFFICIENT SERVICE

Our team can help design, print and install your commercial signs. Sourcing a printer and dealing with the logistic is something we can help take care of. We have print capabilities right in house for urgent jobs.

BOOK NOW

LOGISTICAL SUPPORT

WE GOT YOU COVERED 


Unlike other sign types that can easily fit in a car for transport, commercial signs can be very larger. Our team of professional installers can take care of transporting your sign in our trucks. Once retrieved  the sign will be framed and installed at your commercial site.

BOOK NOW
EASY SIGN INSTALLATIONS ONLINE BOOKING
COMMERCIAL SIGN INSTALLATION GALLERY
REALTOR COMMERCIAL REAL ESTATE SIGNS INSTALLATIONS
Frequently Asked Questions For Commerical Real Estate Sign Installations
What is a commercial real estate sign?

Coastal Post offers a wide selection of realtor signs and real estate specific signs. The most popular real estate sign prints are residential for sale signs, realtor lawn signs, directional signs, condo for sale signs, open house sandwich boards, large format real estate for sale signs, and realtor sign riders.
What media are commercial real estate signs printed on?

Commercial real estate signs are printed on vinyl using a latex printer and applied to coroplast, aluminum composite panel, or plywood. Coroplast is the most popular sign media for commercial real estate signs. 
Why is Coroplast popular for commercial real estate signs?

Coroplast is the most popular media for commercial real estate sign print as it is durable and affordable. A coroplast commercial real estate sign can last up to 1 year before it begins to warp and discolor however the lifespan depends on the condition the commercial real estate sign is subjected to. Your coroplast commercial real estate for sale sign can be laminated to prolong the lifespan and add an extra layer of protection to your sign print.
What areas do you install commercial real estate signs in?

We install commercial real estate signs in all areas:
Zone 1 - Surrey, Langley , Abbotsford, Chilliwack
Zone 2 - Coquitlam, Port Coquitlam, Pitt Meadows, Maple Ridge, Mission, New West Minister, Cultus Lake
Zone 3 - Delta, Vancouver Richmond, Burnaby, Harrison
Zone 4 - North Vancouver, West Vancouver
How should I design the property development sign and rezoning sign?

Property development signs and rezoning signs follow a specific requirement regarding the information required and placement guidelines of the commercial real estate sign. The guidelines are set by the governing municipality in each Metro Vancouver and Fraser Valley area. The template is provided by the City once the review process is underway with the city planners.
What should I include in the design for an agricultural for sale sign, large acreage for sale sign, residential for sale sign, large temporary marketing sign, and commercial real estate sign?

Your commercial for sale sign and for lease sign is the first impression for potential buyers, so make it a great one! The design for your commercial sign should be concise and consistent. Too much information can be distracting and overwhelming for readers so keep it simple and direct. Use a maximum of 2 type faces, use colors and imagery that are consistent with your brand, so it is easily recognizable and easily remembered.